ClearCorrect™
Oak Brook, IL
You asked! We answered, with a state-of-the-art multi-layered ClearQuartz™ Clear Aligner
Would you like to straighten your teeth in a subtle, less blatant way? For some patients, traditional braces are not a realistic option. If you are one of those individuals, our dentist, Dr. Chris Metcalf, may recommend that you try ClearCorrect™. When you come to Metcalf Dental, we can determine if you are a good candidate for this orthodontic treatment. Call us today at (630) 203-9779 to schedule an appointment or learn more about our services.
ClearCorrect™ aligners are clear, removable braces that are virtually invisible. They are an alternative to metal braces and can be used to treat a wide variety of orthodontic problems. The length of time you will need to wear them will depend on your individual orthodontic needs. However, most patients wear them for about 12 months. Each aligner is worn for about two weeks before being replaced with the next aligner in the series, gradually moving them into the desired position over time. The main downside of ClearCorrect™ aligners is that they may not be suitable for everyone, specifically those with severe cases of misalignment. Our dentist will need to assess your individual needs before determining if they are right for you.
During your consultation, our dentist will assess your teeth and determine if ClearCorrect™ aligners are your best treatment option. If so, we will take impressions of your teeth, which will be used to create your custom-made aligners. The cost of these oral appliances will vary depending on your individual orthodontic needs. However, they are generally more affordable than traditional metal braces.
These aligners may be right for you if you have mild to moderate misalignment of your teeth. However, the only way to know for sure is to consult with an orthodontist. Be sure to give us a call to schedule your consultation today and see if ClearCorrect™ is the right treatment for you.
"Unlike braces, aligners are discreet and fully removable."
The Benefits of Clear Aligners
Aligners offer several advantages over traditional braces. For instance, clear aligners are:
Removable
Discreet
Smooth and nonabrasive
Unlike metal braces, clear aligners will not irritate sensitive mouth tissues. Patients who opt for aligners can also skip tedious dietary restrictions. Those who choose braces may have to avoid hard candy and sticky treats. With aligners, however, one can simply remove the trays to enjoy their favorite foods.
Keep in mind that aligners are not suitable for everyone. For example, aligners are not an appropriate option for young children whose mouths are still developing. Dental providers generally recommend clear aligners for patients who have already achieved their adult jaw size and shape.
Clear aligners cannot fix every dental concern. Some complex issues may require traditional braces or headgear. We can provide in-depth guidance. If clear aligners are not an option, we can help select an alternate treatment.
"Dental providers generally recommend clear aligners for patients who have already achieved their adult jaw size and shape."
Consistency is Key
Patients must wear clear aligners for 20-22 hours per day. Patients who reach this target enjoy a faster treatment and more consistent results. Most providers recommend removing the aligners only to eat, drink, brush, and floss. Patients can expect to wear their aligners overnight, too.
Complying with treatment can be a roadblock for some patients, especially teens. Patients who tend to snack or sip coffee throughout the day may have trouble keeping their aligners in place. However, removing the aligners for several hours each day can reduce the effectiveness of your treatment.
Before investing in clear aligners, patients must be realistic about their limitations. This involves considering their lifestyle and personal habits. If they suspect that they may have trouble sticking to the treatment plan, braces might be a better choice.
"… removing the aligners for several hours each day can reduce the effectiveness of your treatment."
What to Expect from Treatment
Once a patient opts for clear aligners, our team begins by taking impressions of the mouth. We send the impressions to a dental lab that produces the aligners. The first set of aligners will be ready within a few weeks.
Most patients can expect to switch out their aligners every one to two weeks. Each new set shifts the teeth a bit more. We provide a schedule that explains when it is time to switch to a new set of aligners. Patients can change out their aligners in the comfort and privacy of their own homes.
During treatment, patients may need to visit the office every six weeks. During these visits, we provide the next few sets of aligners. Our team also takes a look into the mouth to assess the treatment's progress. These checkups are generally brief.
"Patients can change out their aligners in the comfort and privacy of their own home."
Questions Answered on This Page
People Also Ask
Assessing Your Results
Treatment times can vary, and complex dental issues may take longer to treat. The average treatment time is less than two years. Teen patients may show results more quickly, as their teeth are still developing.
After patients complete their treatment plan, they should expect to continue wearing their aligners overnight. Our team might also suggest a permanent retainer. These devices are fixed in place to prevent the teeth from shifting.
This stage of treatment focuses on preserving the results. It is essential to follow up with the dentist's recommendations. If patients stop wearing the aligners too soon, the teeth may move back into their original position.
"The average treatment time is about 12-18 months."
Frequently Asked Questions
Q. Can I play sports while wearing my aligners?
A. Dental providers recommend removing your aligners during physical activity. If you are hit in the face while wearing your aligners, you might suffer a mouth injury. Our team can provide more advice about preventing sports-related dental injuries.
Q. Can I eat or drink while wearing my aligners?
A. It is safe to sip room-temperature water while wearing clear aligners. Avoid hot or cold beverages when your aligners are in place. Extreme temperatures can warp or damage the material. Always make sure to take your aligners out before eating.
Q. Are clear aligners painful to use?
A. Most orthodontic treatments involve a certain amount of discomfort. As your teeth shift into their new position, your mouth may feel sore. These side effects generally appear after inserting a new set of aligners. Any soreness or discomfort usually disappears after 24 hours.
Q. Can you see clear aligners when they're in place?
A. Aligners are designed to be discreet. Unless you are looking closely, it is difficult to tell whether someone is wearing clear aligners. For added discretion, aligners can be removed during photos and special events.
Q. How much do clear aligners cost?
A. Costs may vary depending on insurance plans and treatment duration. Your insurance provider can offer specific information about costs and coverage. Our office team can also help you compare treatment options to find one that meets your needs.
Call Us Today
Clear aligners are an option for most teens and adults seeking orthodontic treatment. With clear aligners, patients can reduce the amount of time they spend in the dentist's chair. Treatment generally takes place in the privacy and convenience of the patient's home.
However, aligners might not be right for everyone. Some dental issues may require traditional braces or other specialized care. A personalized consultation can determine whether clear aligners are right for you.
Let Metcalf Dental in Oak Brook determine whether you're a candidate for clear aligners. Call us at 630-203-9779 to schedule a consultation.
Helpful Related Links
About our business and website security
Metcalf Dental was established in 2004.
We accept the following payment methods: American Express, Cash, Check, Discover, MasterCard, and Visa
We serve patients from the following counties: DuPage County and Cook County
We serve patients from the following cities: Oak Brook, Villa Park, Lombard, Oakbrook Terrace, Hinsdale, Elmhurst, Westmont, Clarendon Hills, Willowbrook, and Burr Ridge

National Provider Identifier Database

(1568582484). View NPI Registry Information

Healthgrades

. View Background Information and Reviews

Norton Safe Web

. View Details

Trend Micro Site Safety Center

. View Details
Related Posts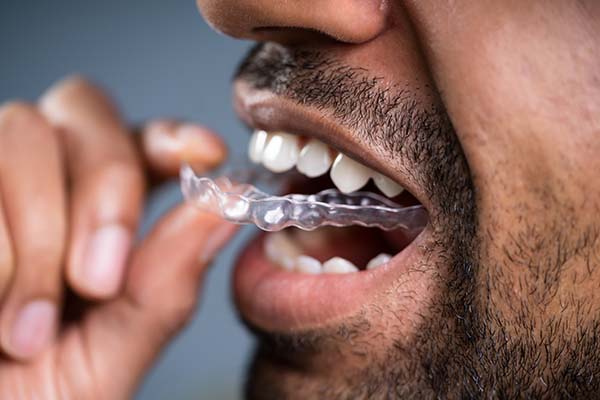 Whether you are an adult or a teenager, a clear aligner might be just what you need if your dentist recommends a minimal alignment or straightening of your teeth. Clear aligners are designed especially for minimal alignment issues and can help restore your smile and your confidence.Clear aligners are devices that an orthodontist can use…
Explore additional topics covered on our website: